Movie Review: The Martian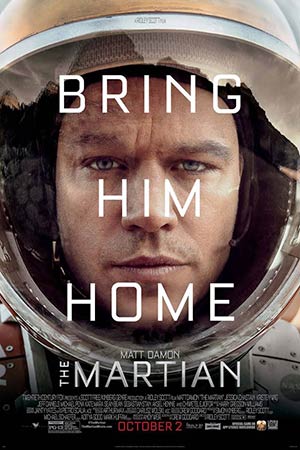 Last week I went to see The Martian, which was the movie based on the book by Andy Weir. As I mentioned in my review of the book, I really loved the story. It is science with a sarcastic attitude—a mix that struck a chord with me.
For the movie, I think Matt Damon did an excellent job as Mark Watney. It was a very believable portrayal of the character. I could see him truly as a man stuck on the surface of Mars trying to find a way to survive against the odds.
This is truly a story that kept me wondering how he could live and the greatest part was that it took intelligence, cunning, and wits to overcome the obstacles. The foe (nature) could not be overcome by brawn and extra fire power. Bringing a truckload of macho was going to save his life. It is refreshing to see that play out both in print and on the screen and for so many people to embrace it.
Let me say this early, I think the movie is 5 out of 5 stars, so definitely go see it. However, I did have a couple of gripes which come purely from having read the book first—which if you have not read yet, go get a copy and start reading it now…or at least as soon as you are done reading this post.
My gripe is that they removed some of the science from the movie. Sure, runtime will necessitate quite a bit of what was removed and I am okay with that. However, I think there were places where they could have left in a little more of the science. It would have been easy to drop a few more voice-over statements from Watney's log in a couple of scenes and I think not only could most people have embraced a few additional bits of science, but that it would make for an even more powerful story.
Don't get me wrong, there was science in the movie and I was very happy to see it. In fact, I don't know if this is a testament for how well the movie was done, or a commentary on our society, but the last week or so, I've been seeing comments (mostly poking fun) at people who either believe or have asked if this was based on a true story.
Perhaps the problem is a mix of both. The movie was done with realistic physics, lots of scientific reasoning, and complex problem-solving—which made it seem more realistic than many other dramas that make it to the screen. Couple that with an education system that has lost a bit of focus on the sciences and I can see how some people might be led to believe it was based on a true story.
However, that still does not make me want to water it down, if anything, I think taking it to the next level and adding the extra science back could expose more people to what science is about and make them excited to learn.