Last weekend, I made a trip to the Liberty Memorial in Kansas City, Mo.  It is the only museum in the US dedicated solely to preserving the objects and history of WW1.
I do go to a fair number of museums and historic sites.  I enjoy history.  However, this was my first trip to the Liberty Memorial despite the fact that it's pretty much in my own backyard.  I definitely enjoyed seeing all the history and it makes me think about how the people in my own world would react to the war that is part of Stephenie's story.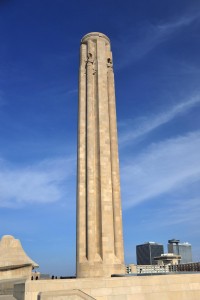 Here are a few pictures we took while we were there.  Last Saturday was a bit windy with a bit of a bite to the air.  However, we did manage a period of time were the sky wasn't completely cloud covered.
The tower has an elevator, though you will have to climb a few stairs to get all the way to the top.  The view was good, as the memorial itself sits on top of a bluff, so it is raised above the city.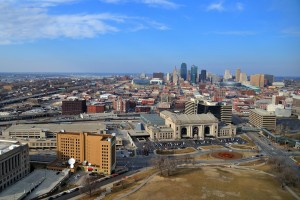 The shot on the left is one from the top of the tower.  The building center/right is Union Station.  Another building they had renovated a number of years back.  The interior is well done and worth the time to walk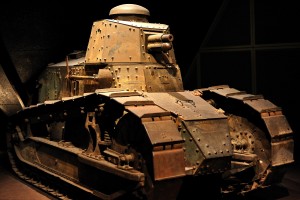 around in t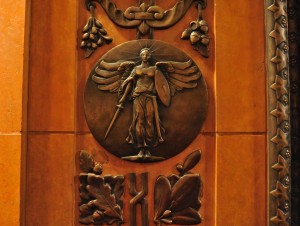 he old train station.
To the right is a picture of an old French-made Renault FT-17 tank.  The left rear of the tank has battle damage, where a shell removed a good chunk of the tank.  Looking at the tank in person, it is very small and doesn't look like it would provide a great deal of protection.  The main body of the museum is actually inside the bluff and under the tower.
Above ground, and flanking the tower, there are a couple of buildings that house more of the collection.  The relief to the left is part of the doorway of one of the buildings.  The architecture was quite impressive.