KC Ren Fest 2013 — Weekend 3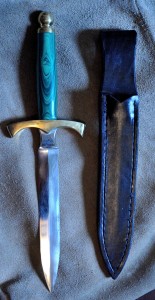 Yesterday was a great day at the KC Renaissance Festival!  The weather was excellent (not sweltering like the last two weekends) and I got to meet a lot of wonderful people.  I also fell in love with a new dagger from my friends at Dwarf Mountain Knives (a weakness of mine).  I didn't buy the dagger yet (mostly because I bought a new one on the first weekend, which is pictured to the right).  However, that might change before the end of faire.
I'm helping my sister-in-law out in her booth (531, Samantha Nowak Illustrations) and she has a lot of great art work available in the booth and on-line.  We also have my books at her shop (nudge, nudge, wink, wink).
I had fun talking to a couple of different authors who stopped by, as well as a lot of existing fans and hopefully even more new fans of Stephenie's story.  The only problem with a busy faire is all the dust that gets kicked up.  I inhaled so much dust I'll be coughing it up for a week and my voice is now a bit rough, but I love being out there and wouldn't miss it; there are so many great people to talk to and it is a lot of fun.
Last night turned out great as well.  After I got home from faire, we ran out for a late dinner and had a chance to meet several very nice people (and a good waiter).  That is one thing I love about being an author, being able to talk to new people.
I will not be at fest today, but if you are, I have signed copies on Sam's booth.  I will be back next Saturday and several weekends to follow.
— Ted