Recharging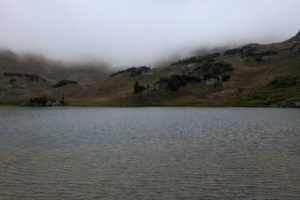 Recharging is something we do all the time for our devices; almost constantly it might seem. My phone is always in need of more juice, and my laptop will want a sip from the cord, even when I am not using it. However, we don't always recharge ourselves. I am still catching up from the events of the last 13 months, but I will say my vacation to Colorado near the end of August did help.
All of us recharge our minds and bodies in different ways. For some, it might be watching television or going to a sports game. For me, I need solitude (the bane of extroverts and the joy of introverts). Reading a good book will work, but what works best is being outdoors. I love getting away to a place where most people do not tread. The idea that I may have traveled over lands that only a few thousand people in the history of the world may have passed through is invigorating. And while the exclusivity of some of our hikes is wonderful, the fact that we can physically be somewhere isolated enough that we might not see another person at all allows me to put my life into perspective. It is that isolation and solitude (or in my case, traveling with my wife) that fixes what is wrong with me.
When I am out on the trail, much of my day to day life just evaporates and I can clear my thoughts. It really helps with regard to writing. If I need time to work out a plot device or get to know one of my characters a little better, a few hours in the woods gives me the chance to think without distractions. It is my method of recharging and generating inspiration. It is the mental writing I have to do before sitting down in front of the computer.
Even when things don't go the way I want, being out in nature is where I prefer to be. The picture above is of Parika Lake in the Never Summer Wilderness, and while it may not be obvious, it was sleeting on us when we reached the lake. At 11,400 feet, exposed hands quickly got wet and cold in the icy rain. However, I would do it again without hesitation. We never saw the peeks that surround the lake due to the clouds, but the rolling moisture created an even more interesting environment.
Hopefully, everyone finds their own recharging station and can do things that bring inner peace. I know it is not always easy to do. The day to day eats away at us sometimes, and too often there is not enough time for ourselves. It is one of the things I intend to continue to keep in focus going forward.