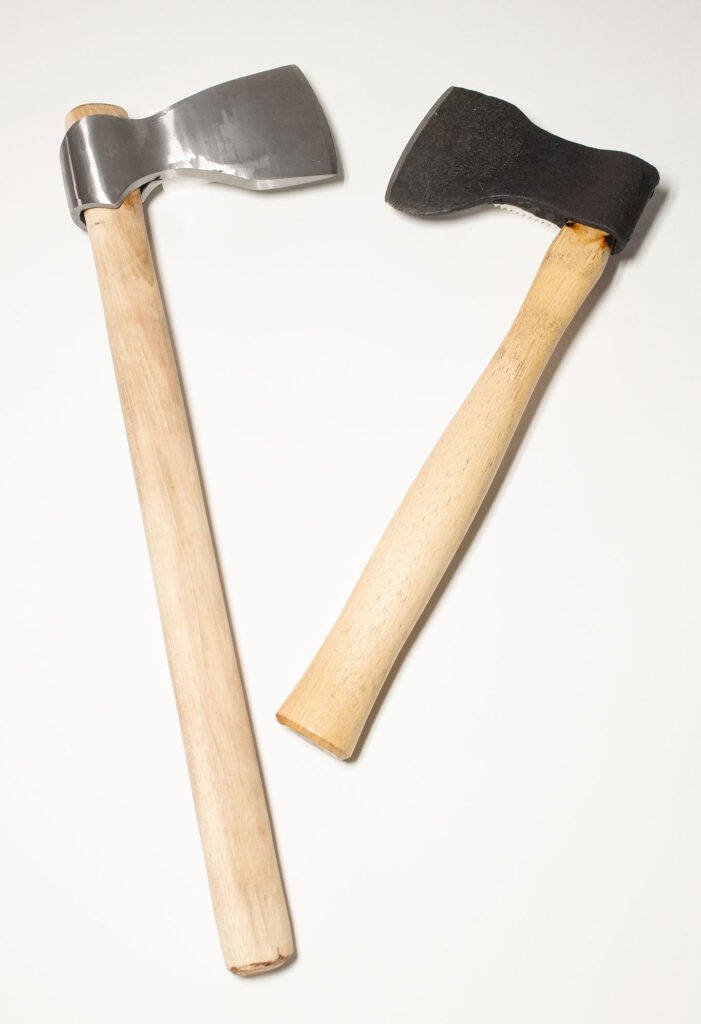 As I mentioned last year in a blog post on 3D Printing, I planned to take some blacksmithing classes from The Blacksmith Shop in Omaha. I had enrolled in two classes on back-to-back weekends. The basic blacksmithing class the first weekend and the axe class, taught by John Thompson of Dwarf Mountain Knives the second weekend. I finished both classes at the end of January and I made the axes above with John's very helpful instruction.
I've known John, and his wife Trena, for a number of years now because I've bought a fair number of blades from them at the KC Renaissance Festival. It was great having a chance to meet up with them both weekends and really made the experience so much better. Nothing tastes better than dinner with friends after a long day at the forge.
Learning at The Blacksmith shop
I had taken a set of blacksmithing classes a number of years ago, but using a gas forge in an enclosed shop has some advantages to working with coal outdoors. Elmo, the owner of The Blacksmith Shop, has a huge room full of tools. There is a wall of hammers, racks of tongs, many anvils, and lots of power tools (only a few of which we used). I never realized just how varied, and specializes, hammers could be.
The basic class teaches you to use the hand tools to move metal. We made leaves so that we can learn how to direct and shift metal, we drew out and thinned square rods, create twists, and learned a better way to make 90-degree bends. That first weekend, I came home with a wall hook, a plant hanger, and a fire poker. As well as a fairly sore body.
The axe class occurred the following weekend and we made a throwing axe and a hatchet over the two-day period. I was the only one foolish enough to do classes back to back. Most of the people who use The Blacksmith Shop will only use it for a couple of hours per week. Rarely will anyone ever do a full day's work hammering away by hand, let alone two days in a row. It really made me appreciate those blacksmiths of the past who had no access to power tools.
John really did a good job in walking the class through the process of making the axes. He learned a lot through trial and error, and all those years of experience makes huge a difference. It highlights why it is important to pay a crafter a proper amount for their work, the raw materials of a product are only a small part of the price.
The throwing axe is my favorite. We took a high carbon steel bit and sandwitched it inside mild steel. The first weekend, when working with the mild steel only, we could quench our work regularly to cool it when needed, but you cannot do that with high carbon steel. We when drew out the blade with hammers and when we got something thin enough and in the general shape, we moved to sanders to get the profile to the desired shape. I also learned why there are so many types of tongs. Even small differences in the size of a piece can require a different set of tongs.
The hatchet used a similar technique, but we had a much smaller bit and made the eye in a different fashion. Due to time constraints, I didn't take many photos of making the hatchet. I also opted to do a forge finish on the hatched instead of polishing it. Below are pictures of both weekends.
I had a ton of fun doing these classes and would definitely go back to do the blade class. I may look for a makerspace in the Kansas City area that has a forge and tools, as it is not something I would be able to get away with at home. However, I have other projects and tasks to complete, so it won't be something I do right away (and the classes for 2022 at The Blacksmith Shop are full or getting full, so if you are interested, sign up early).
I did get what I wanted out of the classes. I got to learn a bit more about blacksmithing and working steel, which I will try to incorporate into my writing somewhere. I ended up with a couple of axes. I got to hang out with John and Trena (I highly recommend Dwarf Mountain Knives). And most importantly, I had a lot of fun!