For the last part of my blog tour for Mother's Curse and Daughter's Justice we are having a photo contest!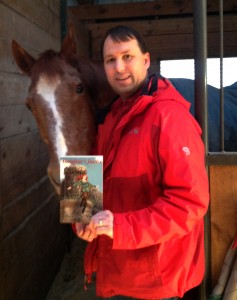 All the blogger and fan support this week has been excellent!  And to say thank you, we are wrapping up things with a chance to win a Kindle Fire or one of two $50 Amazon Gift Cards.
The details can be found on Novel Publicity's blog.
Just as an example, earlier this year, Dollar was caught reading the back of Daughter's Justice.  He told me with carrot breath that he really liked it.