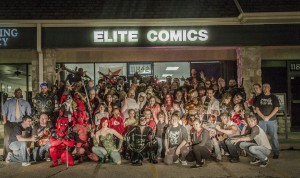 I have a table at Elite Comic's We're Batman event!  It is this coming Saturday, 26 Jul 2014, starting at 10am and going to 4pm.
Come out and help us celebrate Batman's 75th anniversary.  There will be food, fun, numerous creators (including myself), and an attempt to set a cosplay world record for the most people in a Batman costume.
The highlights:
Huge sidewalk sale!
Limited Edition Batman gig poster!
Free copies of DC's Detective #27 souvenir comic!
Free Cowls and Capes!
DJ keeping the groove movin'!
New Batman/Elite T-Shirt!
Face Painting!
Succotash food truck serving up carnival favorites!
I will be doing autographs and have copies of my novels available.  I also have some give-a-ways myself (bookmarks and copies of my maps).
There will be a tent in the parking lot at: 11842 Quivira Rd, Overland Park, Kansas 66210
If you are in the area, don't miss the fun!