Weight Loss, where I am today
Weight loss
Weight loss is one of the hardest things to deal with and just about everyone considers trying to lose weight at some point in their life. For many, it is a struggle they live with every day of their life. I am not claiming I have any answers, only that for the second time in my life, I have managed to drop back down from a point of excess weight to one more reasonable for my height and build.
I started with Lose-It back in 2010 (roughly at the end of February) at 185 pounds and lost weight to get back to what I called highschool skinny (around 155 pounds). I remained at that weight for a few months (roughly Aug – Nov) and then started a gradual climb to around 165. I stayed around 165 for a year, and then started a slow climb up into the 180s. I bounced back to the mid 170s and stayed there until 2018. At that point, I launched myself into the 190s (the highest I recorded was 193.4).
Stress
I know what pushed me to gain weight each time: stress. I am a stress eater. I can deal with a lot of stress and compartmentalize it (I worked as the escalation point for down systems for a database platform used by many large corporations for six years and the buck stopped with the team I worked on). However, for me, another bad habit that comes from stress is a tendency to veg and do very little. So, combine snacking (and drinking sugary beverages) with minimal activity and you end up with the graph below.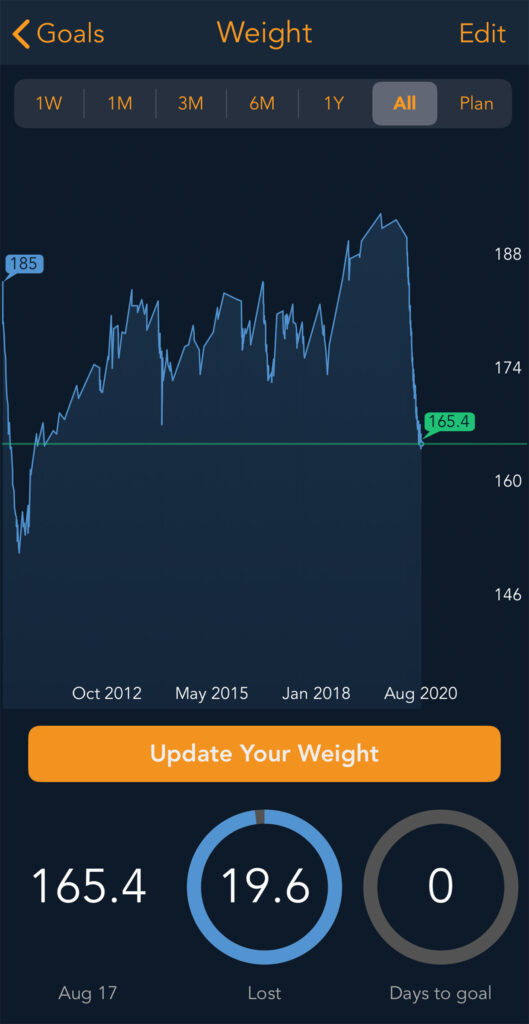 The chart above doesn't use a starting point of my heaviest, so it only says I lost 19.6 pounds. Going from my peak of 193.4 last August to today's 165.4, I am down 28 pounds over the least year.
I will admit to being very proud of the weight loss. I want to say it took no effort and I breezed through it, but that is not true. The least ten pounds fought me considerably, and I found myself discouraged more than I should have been. Combine in a fluctuating commitment to exercise, and I saw a very spiky month before I hit my target.
What is different
I am more hopeful this time with my weight loss. Ten years ago I was younger and dumber. I had confidence I had not yet earned (I may still have some of that hubris today—I hope not) and let myself get complacent. I had also set what I now believe was an unrealistic goal. While 155 left me skinny enough I could play David Tennant as The Doctor, it is not something I think I can maintain over the course of my life. Fortunately, the graph data showed I naturally tended toward 165 pounds, which is the goal I set this time around.
And while I am at my target weight, I am not at my target percent body fat. So, as I continue to strive to turn fat into muscle, I hope that a few more inches will fall off my midsection, even though I won't drop to my highschool I had back in … let's say a few years ago.
Part of what I have changed is walking four to six miles a day. That has given me more stamina, and I've even been able to do a solid two mile jog without dying from the effort. I want to work that up to 4 miles so I can easily do a 5k (and then some) and then get myself over 6 miles running to take part in 10k races. (The two mile units also relates to a two mile loop I have near my home.)
I don't think I will ever aim for a full marathon. Not that I think I couldn't do it, but because the time needed to train for that would prohibit too many other things I like to do more (such as writing, drawing, photography, and hiking).
My message
I will take the cop-out answer of saying each person's journey in the effort to lose weight is different and I can't say what will work for you, but I can say that what worked for me involved:
Tracking my calories, even when I had to guess at the actual amounts, and especially when I went over the daily budget (forced me to remain accountable to myself)
Adding exercise, starting with walking, then adding light weights, and increasing the effort until I could sustain jogging and heavier weights (burns calories, makes me feel better, and improves my overall health)
Giving up sugary drinks (they have so many calories and I could drink over 1000 calories in one meal)
Staying with it even when I made no progress and things got difficult (again, remaining accountable to yourself)
Setting realistic goals (1-2 pounds of loss per week and a target my body can sustain long term)
Cutting portion sizes down so I can still have dessert, just not as much of it as I used to eat (I love pizza, ice cream, Jello, … I really love these things)
And to repeat, not giving up; learn from prior attempts and adapt; I've done this twice in the last decade (continual improvement)
Good luck, stay safe, and remain positive!
Earlier updates on this journey include: Diet, I Should Have Started Sooner, Losing Weight, Bumpy, but Expected, Keeping Focused on the Diet, and Diet at Home.